The Cocoon – Playway for the toddlers
Gurukul World is among top 10 schools in Mohali and is a strong believer in the value of pre-school education and has a very attractive pre-primary wing, Cocoon-an abode which engages learners in a joyful nurturing and progressive events. The atmosphere at cocoon is warm, colourful and welcoming. Every corner is a valuable arena of learning which is engaging, enjoyable and recreational. Our special proven approach designed to address the individual developmental needs that can help children enhance independence, inspiration and intelligence through playway method with no formal instructions or textbooks.
Digital Learning Content
Digital lesson plans are prepared by our competent facility to be delivered on the interactive touch screen boards. Such lesson plans are innovative, engrossing, interesting and learner friendly. We do such practices in our teaching methodologies for we want to maintain a unique position of being among top 10 CBSE Schools in Mohali. We believe that an innovative style of teaching makes children look forward to the interactive teaching lessons.
The Classrooms
The Classrooms are air conditioned spacious, bright, ventilated and furnished with furniture that is comfortable, ergonomically designed confirming to the standards specified for kids to develop the right posture. Each classroom is equipped with touch screen board that comes with a host of interactive features, providing a very lively and enriching teaching learning sessions. Our classrooms are child centric and students are encouraged to explore, discover and actively participate in constructing their own learning. Using the most advanced audio visual and kinaesthetic learning techniques, we are the best school in Mohali and therefore make learning effortless, joyful and effective.
NIIT Maths Lab
There is a state-of-art mathematics laboratory in school. It offers Multiple Teaching and Learning Aids as well as a complete theme based ambience which helps students to visualize and feel mathematics. Learning aids comprise of Technology Applications, Videos, Manipulatives, Measuring Instruments, Tables, and Charts etc. Based on the three pillars of Imagination, Investigation and Interaction, the lab of Schools in Mohali provides an opportunity to students to understand, internalize, discover and verify the basic mathematical and geometrical concepts through concrete objects and situations.
Language Lab
Since we are often recognized in the list of top CBSE Schools in Mohali, we understand the crucial role that the language plays in personality development during the formative school years cannot be denied. To inculcate good English language skills right from the primary level and ensuring accuracy of the language, language lab is an innovative tool for our students. The language lab integrates technology quite effortlessly with some of the best, internationally acclaimed methods of teaching English language all over the world.
Science Lab
A state of art, science lab, for all science practicals in senior classes as per CBSE guidelines. Special care is taken for the safety of the students while performing experiments.
Computer Lab
1:1 ratio computer lab where the children are brought for computer practicals, more emphasis is given hands on learning to enable the children to be tech savvy.
Library
A well stocked library with interesting books and periodicals to lure the readers to read and enhance their knowledge. Books are issued to students on a weekly basis. Book reviews are made by students. The CBSE schools in Mohali aims at creating avid readers.
Infirmary
The well equipped Medical Centre with suitably qualified medical staff deals with day to day medical problems of the students.
Art and Craft Studio
Art and craft not only enhance creativity in a child and give platform to express their ideas and thoughts. The school boasts of a well lit, beautifully decorated art and craft studio where the children love to paint and draw.
Music Studio
Music speaks where words fail. The school has a well equipped music studio where children are trained by professionals for singing and playing instruments.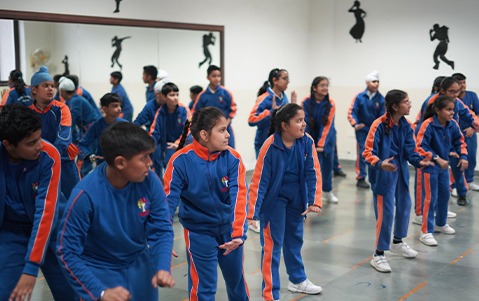 Performing Art Studio
Dancing is an activity which is enjoyed by youngsters; the school has a dance studio where children are trained by professionals on various dance forms An activity loved and enjoyed by all students.
Sports
Sports not only keep one physically active but at the same time teach the value of discipline, hard work and team work. The school has the facility of all indoor and outdoor sports where the children are trained by coaches for various games.
Transport
The school has deluxe AC buses equipped with latest technology CCTV Cameras, GPS and Female Attendant to ensure comfort & security.